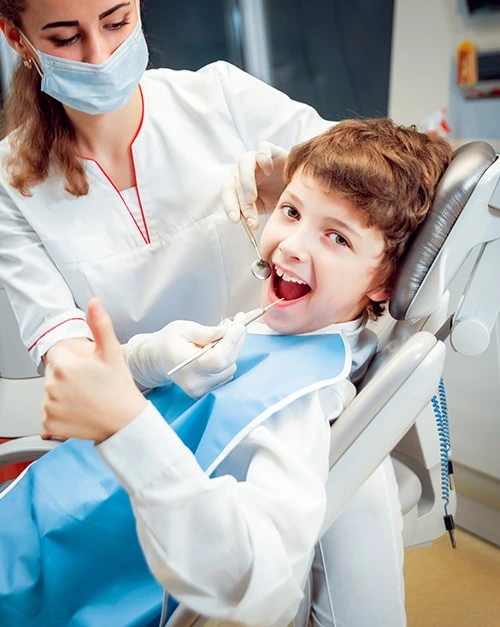 At Peridot Dental Care, we prioritize your child's well-being by providing the finest Pediatric Dentistry services in Woodbridge.
Top-rated Pediatric Dentist in Woodbridge
Peridot Dental Care can be the right destination for those who need the help of an experienced pediatric specialist in Woodbridge to deliver preventive oral healthcare at affordable rates. We proudly stay at the forefront of pediatric research in Woodbridge, ensuring that our methods are rooted in the latest advancements in the field.
Additionally, we provide other beneficial cosmetic dental services, such as dental veneers, dental crowns, dental implants, dentures, and Invisalign, for those who suffer from various dental imperfections. Feel free to reach out to us and consult with our highly experienced cosmetic dentist in Woodbridge.
Initial Appointment with a Highly-Skilled Pediatric Dentist
As our Woodbridge children's dentist states, it is crucial to provide appropriate attention to baby teeth due to their vital functions in facilitating proper nutrition through effective chewing, contributing to the development of speech, and aiding in the healthy growth of permanent teeth by maintaining proper spacing.
Typically, pediatric dentists advise scheduling a dental visit for infants around the age of one once the first baby teeth appear in the children's mouth.
At Peridot Dental Care, we take great pleasure in offering an extensive range of services catered to children of all age groups, promoting the growth and vitality of their developing smiles.
What Occurs During Your Baby's First Dental Checkup?
During your baby's first dental checkup, all pediatric dentists in Woodbridge will:
Conduct a thorough oral examination of your baby's teeth, specifically looking for signs of tooth decay.
Identify any conditions that may require specialized attention, such as dental enamel defects, which may necessitate additional precautions to prevent tooth decay.
Guide proper oral care for your baby's teeth and gums.
Address the importance of daily brushing and flossing in preventing cavities.
Offer instructions on how to effectively clean your baby's teeth, as parents often have questions about this aspect of oral care.
At Peridot Dental Care, our kids' dentist in Woodbridge will personally demonstrate and guide you through the process of cleaning your baby's teeth, empowering you to safeguard your child's oral health to the fullest extent possible.
FAQs Answered by Our Highly-Trained Pediatric Dentist in Woodbridge
Pediatric dentistry involves the provision of early dental care for infants, children, and adolescents. In the following part, we will address common questions regarding pediatric dentistry to help those who prefer to achieve further information about this exceptional branch of dentistry:
A pediatric dentist offers a range of preventative care options to ensure optimal oral health for children. These include:
Preventive checkups
Regular checkups are conducted to provide proper oral hygiene instructions and evaluate the normalcy of all oral and facial tissues, including saliva.
Fluoride treatment
Our professional pediatric dentist in Woodbridge will apply fluoride to the outer surface of young patients' teeth to protect the enamel of the teeth and prevent tooth decay.
Nutrition counseling
Our child-friendly dentist provides customized counseling to address your child's specific nutritional needs, promoting healthy eating habits that contribute to good oral health.
Thoughtful parents should book a pediatric dental appointment for their lovely kiddos promptly. This is because those who are qualified to provide pediatric dental procedures should undergo an additional two or three years of specialized training after completing dental school to deal with the specific requirements of young patients.
In our pediatric dental clinic, we proudly work with a knowledgeable & sophisticated pediatric dentist near Woodbridge who strives to preserve young patients' oral health most professionally.