Once an emergency dental condition suddenly occurs, visiting us at Peridot Dental Care to receive exceptional urgent care services in Woodbridge is the most necessary step you should take.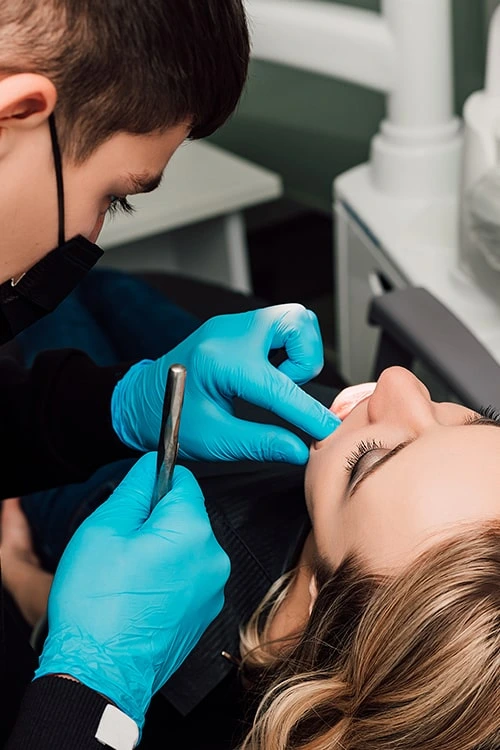 Cutting-edge Emergency Dental Services in Woodbridge
Peridot Dental Care can be the right place for those who need the help of a top-rated emergency dentist in Woodbridge to deal with their life-threatening oral problems. Be assured that our compassionate staff at the emergency dental clinic in Woodbridge is always available to assist you whenever dental issues arise. Regardless of the nature of your dental emergency, we encourage you to contact us promptly at +1 905 850 8333.
All Common Symptoms that Can Force You to Visit an Emergency Dentist
In addition to instances such as a loose or fractured tooth or a severe toothache, there are several other situations where you may consider promptly scheduling a dental appointment, whether it be a regular visit or an emergency appointment. These severe issues include:
Experiencing extensive pain & uncontrolled bleeding in your gum
Noticing severe swelling & tenderness in your jawbone
Experiencing chronic dental pain that spreads to the other organs, such head & ears
Sudden sensitivity to hot or cold temperatures
Feel free to seek the expertise of our highly experienced emergency dentist in Woodbridge as soon as these conditions arise.
The Most Effective Dental Services Offered by a Professional Emergency Dentist
Generally, those who are qualified to provide emergency dental services are professionally equipped with top-of-the-line dentistry tools and techniques to handle your conditions most professionally.
 Here at Peridot Dental Care, our knowledgeable emergency dentist in Woodbridge offers a wide array of services tailored to urgent dental needs. Some examples of the emergency dental treatments we offer include:
Our dedicated team of emergency dentists in North York is committed to delivering exceptional urgent dental care services around the clock. We offer a comprehensive range of high-quality treatments to address a variety of dental emergencies, ensuring your utmost comfort and well-being. Some of the services provided by our emergency dental clinic include:
Replacement of teeth crowns
Dental implant procedures
Treatment for tooth trauma (such as broken, chipped, or cracked teeth)
Care for loose teeth
Emergency tooth extractions
Resolving toothaches
Dental filling
Oral surgery



At our full-service, we prioritize providing prompt and reliable care when you need it most. Our goal is to ensure that you receive all required emergency services in Woodbridge in the most professional way.
FAQs Provided by our Highly-skilled Emergency Dentist
Typically, individuals seeking emergency dental services are keen to gather comprehensive information to ensure the successful treatment of their severe condition and minimize the risk of potential complications. Therefore, we have compiled a list of frequently asked questions that our patients often inquire about before receiving emergency dental care in Woodbridge
After undergoing a specific dental emergency services, it is crucial to prioritize the care of your teeth and mouth to ensure optimal recovery. Here are some essential post-operative dental care tips to bear in mind for effective emergency dental treatment aftercare:
Maintaining Proper Oral hygiene and Cleanliness
 When it comes to post-operative dental care following an emergency dental services in Woodbridge, trying to keep the interior parts of your mouth is the essential factor that should be considered. It is crucial to adhere to the guidelines provided by your Woodbridge emergency dentist regarding tooth brushing after the operation.
Sticking to a Soft Diet
Following a dental procedure, it is common to experience some degree of pain and discomfort in the mouth, which can make eating difficult. By opting for easily chewable and gentle foods, you can help alleviate discomfort and support the healing process.
Avoiding Smoking and Drinking Alcoholic Beverages
Smoking and alcoholic beverages can impede the healing process, potentially prolonging your recovery time. By refraining from these habits, you provide your body with the best chance to heal efficiently and effectively after undergoing dental emergency processes in Woodbridge.
If you possess dental insurance that includes coverage for your teeth, it is likely that you can use your insurance to cover the costs of emergency dental treatment in Woodbridge.
To ascertain whether your insurance policy covers emergency dentistry, we recommend reaching out to our knowledgeable emergency dental team in Woodbridge. They will be able to provide you with detailed information regarding your insurance coverage and respond to any questions you may have regarding urgent dental procedures in Woodbridge.