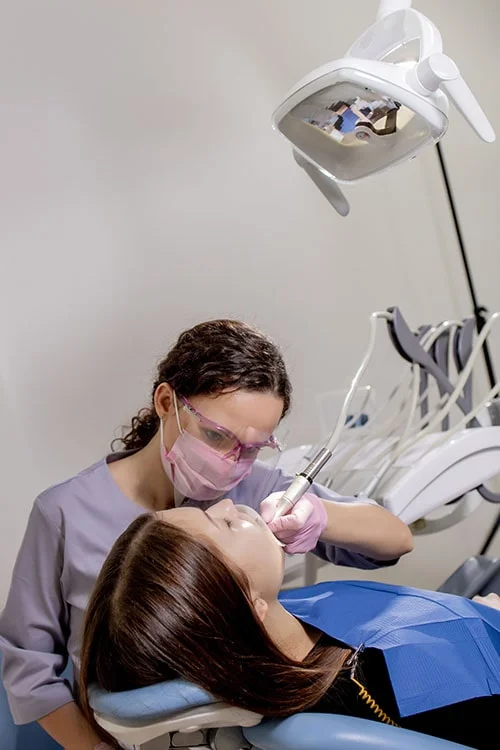 Pain-free & affordable dental services in Woodbridge
Highly skilled dentists & dental specialists
Modern & advanced dental clinics equipped with the latest technology
Free consultation & same-day appointments
Experienced Dentists in Woodbridge
Peridot Dental Care, a modern and well-equipped dental clinic in Woodbridge, is dedicated to delivering exceptional dental services to patients with diverse dental needs. We take great pride in our team of highly experienced and committed dentists in Woodbridge who are passionate about helping patients achieve healthy teeth and dazzling smiles. At Peridot Dental Care, we understand the significance of oral health and aesthetics, which is why we strive to offer effective and affordable dental services in Woodbridge and its surroundings. 
Whether you require urgent dental care or desire to enhance your smile, our clinic provides both emergency and cosmetic dental services in Woodbridge. Don't hesitate to contact us now and schedule an appointment for a free dental consultation with our skilled dental specialists in Woodbridge.
The Cost of Dental Services
As our highly-trained Woodbridge dentists explain, there is a wide range of dental services offered at Peridot Dental Care, including endodontics, wisdom tooth extraction, cosmetic dental services, teeth whitening, pediatric dentistry, dental implants, oral surgeries, dental veneers, dental crowns, dental bridges, Invisalign, orthodontics, dentures, etc. Therefore, it is difficult to provide a definitive answer regarding the cost of dental services.
In essence, the cost of dental treatments in Woodbridge can vary based on several factors, such as the specific type of dental service required, the complexity of the dental issue, the level of experience of the dentists, and more. To obtain accurate information about the cost of dental services recommended for your specific needs, we encourage you to consult with our highly skilled dentists. They will conduct a thorough assessment of your dental condition, taking into account all relevant factors, and provide you with precise details regarding the cost of your dental treatment options.
Here at our Woodbridge dental clinic, our professional dentists in Woodbridge try their best to provide affordable yet quality dental services for all valued patients. 
The Insurance Coverage of Dental Services
When considering insurance coverage for dental services, it is important to determine the specific type of dental treatment that will be provided. For example, if you are experiencing severe dental pain such as toothache and need an emergency dentist or a walk-in dentist to maintain your oral health and preserve your natural teeth, insurance plans can offer assistance. The majority of insurance plans typically cover a significant portion of emergency dental treatments.
However, when it comes to cosmetic dental options, the coverage provided by insurance plans is limited. It is crucial to consult with your insurance plan providers before undergoing any cosmetic dental procedure, as only a limited number of insurance plans provide coverage for certain cosmetic treatments.
During your first dental visit, you will complete a registration form and provide your medical history. Our professional dentist in Woodbridge will address your concerns patiently. A comprehensive oral examination will be conducted, including X-rays if necessary. And finally, our highly-trained Woodbridge dentists will provide a treatment plan based on the examination findings. Future dental appointments will be scheduled, and instructions for maintaining oral health will be provided. Regular dental visits are important for oral health and prevention of dental problems.
Dental treatments can cause varying levels of discomfort. Advances in dental techniques, technology, and anesthesia have reduced treatment-related pain. According to our professional Woodbridge dentists, dental professionals use local anesthesia for pain-free procedures and offer sedation for complex treatments. Temporary soreness or sensitivity may occur but can be managed with pain relievers. Communication with your dentist is important for a comfortable experience. Modern dentistry aims to minimize pain and prioritize patient comfort.